Assault on Khojaly
The attack on the city began on the night of February 25-26, 1992. At 11 p.m shelling of Khojaly started. After the shelling, the Armenian forces with the assistance of troops from the 366th Regiment of the CIS stationed in Stepanakert, marched into the city. Witness accounts confirm that the troops from the 366th Regiment took active part during the assault and occupation of the city. Khojaly was surrounded from three sides, whence the military troops entered into the city.
By 7 a.m. the last point of Azeri resistance was taken out by the enemy forces. The residents of the city had to flee through the snowy areas, a lot of them being without footwear and warm clothes; therefore a number of people died of frostbite on the way. [read more]
Frame-ups in propaganda films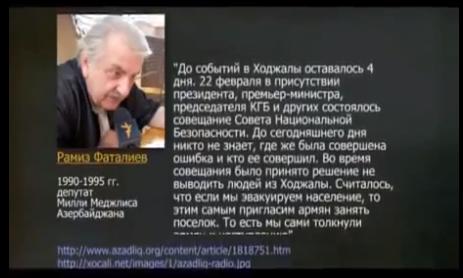 Authors of the film quoted a few sentences from an interview with Ramiz Fataliyev (chairman of the Parliamentary Commission of inquiry into the Khojaly massacre), but they manage to forge even these few sentences pulled out of context.
The original of this interview is in Azerbaijani language; in the film, his words were submitted in Russian, but with an amendment in favor of Armenians. In the film, the authors added the following to Fataliyev's words:
"That is, we provoked Armenians to attack"- this small postscript to the words of Fataliyev, radically changes the meaning of his statement.